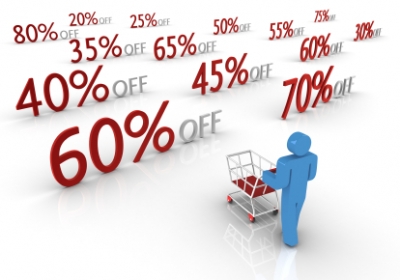 New trends in online shopping discount / offers
Online shopping has become a new and popular trend worldwide. Online stores are not limited to single product, but they sell different sorts of category products like grocery, clothing, accessories and so on.
Online shopping fulfils customers every aspect such as numerous products, price, discounts quality and a choice of different payment options. It saves a lot of effort, time and money.
Following are some of the new flows which are becoming extremely popular and increasing customer's interest in online shopping day by day.
Cashback coupon offers:
According to the latest survey, many of the online shoppers are attracted to the cash back offer technique because of lucrative savings.. 'Cash back' offer basically means that once a customer makes an online purchase, they would be given one or more coupons which they could use for their next shop on certain terms and conditions. Websites provide cash back in terms of cash points which will reflect in customer's shopper's cart account. These cash back offers are valid only for a single transaction.
Discount Coupon Code :
Most of the online stores bring the best new products and that to at attractive discounts. Offering discounts to the potential customers on purchase is the integral part of the online shopping. The customer has to enter the provided coupon code into a promotional box on website's shopping cart checkout page to gain the discount on the purchase.
Mobile Apps:
Smart phone apps technique are increasingly growing for all platforms. Most of the popular e-commerce sites are offering discount of a specific percentage on downloading and shopping from their mobile app.
Mega Sale:
Many E-commerce websites provide the loads of offers on various product purchases on any special occasion such as Festive season or End of Season. The percentage of discount is very high as compared to any other day. Most of the online shoppers rush to shop while the mega sale is on.
Combo Packs:
This is one of the popular vogue seen in online shops. Most of the online stores offer products in the package. They assemble related product together and offers them to a shopper at better deals.
For example, If you are looking for Mobile device at one of the online store, they offer you the mobile device with mobile accessories in manageable price.
Deal of the day and flash sales:
Many of the E-commerce sites follow the strategy of flash sales (also known as deal-of-the-day) in which a website offers a particular product for sale for a very short period of time(24 to 36 hrs) at the lowest prices than usual. And depending on how rapidly many products sell out, often within minutes of email notifications going out, more will jump on this trendy trick.
Free shipping:
Offering your consumers free shipping is becoming an increasingly popular trend now a days. some of the online stores provide the facility of Free shipping to the buyer's place at a certain amount of purchase.It is also applicable on Cash On Delivery payment options.
Above discussed ongoing trends are responsible for the huge ecommerce growth in India as they successful in grabbing the customer's attention with various trendy offers.