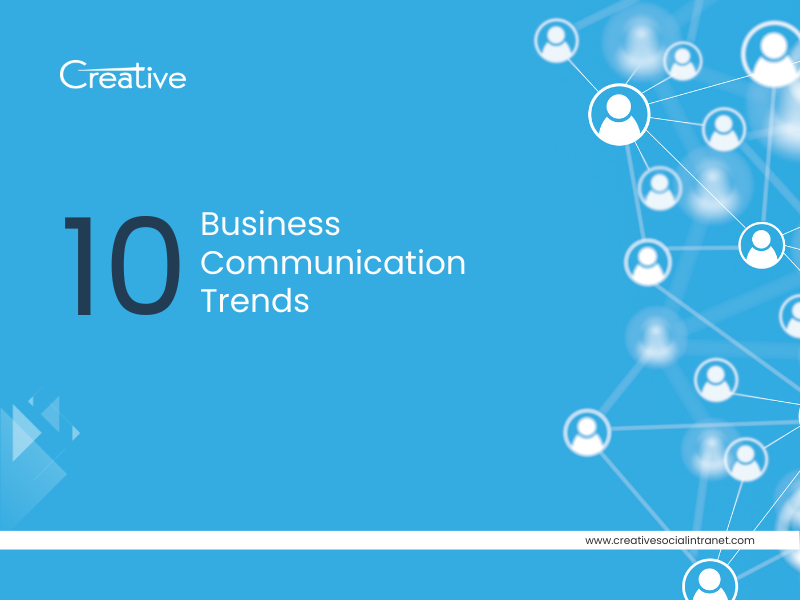 Top 10 Business Communication Trends: Boosting Interaction at Work
In the last decade, business communication tools have evolved drastically. Tools and communication trends have moved away from email and shifted towards personable, targeted ways to reach employees. It's imperative for companies who want to maintain thriving workplaces to constantly evolve and adapt – which means embracing emerging technologies that improve workplace communications.
That's why we compiled this list of the top 10 business communication trends—so you'll know what tools you need in order to be prepared for the future (and thrive!). So what are some of the latest developments out there today, which utilize modern technology to improve your workday?
1. Next-Gen Intranet Software.
Intranet software, or a digital workplace solution, is the number one business communication tool that thriving organizations rely on. According to a study, 85% of companies have an intranet or employee hub of some kind. Businesses need a place to access centralized content, data, and people to be able to work effectively without any obstacles getting in their way. This trend has been fuelled by the benefits of social media, advancing mobile devices, and the rise of remote work; every last update made within these programs can then be accessed at anytime no matter where you are – such as what documents were downloaded onto whichever device you're carrying around in your pocket right now.
Allowing everyone with access through these hubs to feel like they're part of something bigger than just themselves; contributes towards improving the company culture whilst maintaining those happy vibes we all crave when looking for employment elsewhere and being reminded why it's best we stayed where we belong instead.
2. Digital Workspaces that Allow Collaboration.
Successful organizations know that team collaboration is central to their productivity. As a result, intuitive digital workspaces are a top business communications trend. Modern digital workspaces empower employees to work like they're in the same room. Equipped with a robust set of knowledge management tools, co-editing documents, sharing ideas, delegating tasks, and finding information are all available in one accessible place. It's become an absolute necessity for many businesses because teams who work from different locations need to collaborate easily at breakneck speeds while still getting important things done correctly; which means these powerful yet easy-to-use workspaces will make or break them (literally).
3. Integrated Communication.
Another trend in modern-day business communication to keep an eye out for is unified communications. Nowadays, employees are fully expecting a single source of truth when it comes to understanding their goals and doing their jobs efficiently. However, more often than not they're scattered with multiple platforms and overloaded inboxes. Internal communication software put an end to missed messages by streamlining important announcements, content, and conversations in one place. This includes chat services, phone and video conferencing, messaging, and feedback/commenting systems. Employees also receive information relevant to them—which eliminates confusion—and provides a consistent user interface/experience across all devices or media types. By tying together three-way communications: leaders to employees, employees to leaders, or even just among themselves; a unified communications system has reduced infrastructure costs while centralized features provide greater responsiveness from others within the organization who need access or those interested alike in what's being discussed (i.e., new hires).
4. Virtual Meetings.
Since the 1980s, Virtual Meetings have been used to bring teams together. New technologies, such as video-enabled phones, tablets, and apps have changed how teams work together. Employees and management can now share screens, present, and communicate in real-time.
Web-based video conferencing services have also made it easier for teams to meet in virtual rooms. This has greatly improved collaboration efforts. Most video conferencing solutions come bundled with online collaboration tools Such as document sharing, text chat, and screen sharing.
5. Powerful Mobile Devices.
Mobile is so powerful—it's an undeniable form of business communication technology. Whether employees are commuting to work, at a meeting, or on the go, strong mobile apps bring the office to your people no matter where they go. With mobile intranet software, employees can ping team members, access company data, and receive important notifications. This connectivity empowers you to establish better internal communication throughout your entire organization. As an added bonus, if you establish a bring-your-own-device program, employees can use their personal devices at work and be just as efficient too. The real benefit here is that employees enjoy using their own devices – and the company benefits by being able to easily reach those who need them anytime day or night.
6. Cloud-Based Applications.
Your business may access everything, anyplace by keeping corporate data in the cloud. Mobile devices now have access to cloud-based services and applications, which is very useful for teamwork and project collaboration. Due to the flexibility of cloud intranet software, which offers real-time editing capabilities and other cutting-edge sharing features, more firms are choosing it.
7. Technology that Integrates Seamlessly.
As the world becomes more and more connected, the ability to move conversations and data from one platform to another has become huge. It is now expected that all devices will sync conversations, tasks, and notes.
This trend is also seen in some bring-your-own-device initiatives. Some organizations encourage their employees to use personal devices for work and personal uses — reducing friction between the two. It turns out that this technique considerably improves communication within the company.
8. Chat Services.
Chat services offer an easy and convenient way to collaborate with team members. You not only get the information you need faster but can also use different types of media like video and video conferencing. If you have the right intranet platform, it can even integrate chat into your company's digital workplace.
Many modern intranet solutions come with their own built-in chat features so that you don't have to worry about using another platform for it anymore. Intranet chats are real-time while remaining unobtrusive.
9. Multimedia Communications.
A major trend in business communication, multimedia is the way to go when it comes to communication. You may make your information for your employees more interesting and palatable by including videos, photos, and infographics.
A procedure is being explained through video, and management is using it to communicate important company announcements to the workforce and to teach them. More businesses are adopting this trend since the video is more engaging and hence more
efficient as a means of internal communication.
10. Content Infographics and Images.
It's no secret that graphics and images are more impactful than just text alone. This is why when it comes to company-wide communication, business tools come with a suite of publishing features designed to make the content both engaging and beautiful. These features empower you to include graphics, bright imagery, and visuals that convey your message in an enlightening and captivating way. Graphics can also be useful for explaining processes and tasks to employees; there are many tools and apps available which allow you to design these graphics at a low cost.
Conclusion
Despite the constant advancement of business and communication technologies, these patterns will continue for some time to come. Watch the top 10 trends in company communication to stay competitive and continue to change with the times.
Looking for professional intranet application development?