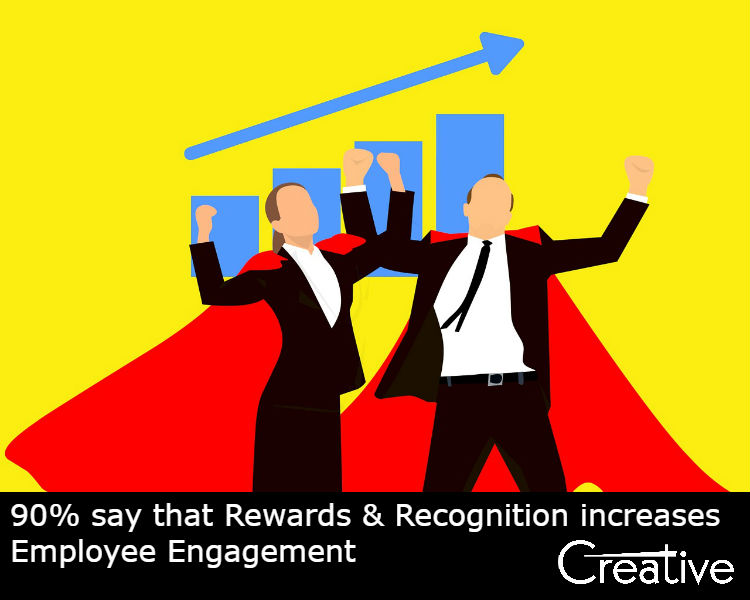 Did you know that there is a straight connection between your employees and your profits?
Rewarding or recognising your people is not just about the monetary fulfilment; it is about increasing their happiness percentage and motivating them in a way that they ad infinitum fuel your business growth; it is all about increasing employee engagement at the workplace.
A famous writer once said, "People may work for money, but they go the extra mile only for recognition, praise and rewards".
(a) Praise
Praise, which of course, is clearly self-explanatory, helps in creating a immense working environment along with boosting the employee's morale, by basically motivating them.
(b) Benefits
Benefits are the basic, non-monetary compensation that works as a supplement to the salary. This includes – health insurance, Stock Ownership Plans, term insurance, etc.
(c) Perks
Perks are again non-monetary in nature, are additional something's that an employer offers to employees to sweeten the deal __ gym/club membership, discounted home loans, a company car, economical travel fares, etc.
(d) Rewards & Recognition
Rewards & Recognition (R&R) programs are carried out to reward employee performance and recognize their achievements. It is an accepted fact that good efficient functioning of R&R programs will accelerate positive behaviours among employees, and that's why almost 90% of organizations today invest in new innovative R&R program for their employees. Effective R&R programs have to,
(1) Recognize individuals & teams in a timely way
(2) Provide diverse opportunities for the recognition
(3) Create a recur able & prolonged practice that can evolve into a program.
Employers and employees can now join hands to register to one interconnected intranet platform to avail benefits from.
(1) A single online and labelled environment that acts as a central hub for all R&R programs – recognitions, rewards, peer-to-peer recognition, performance recognition, landmark achievements, etc.
(2) Amalgamation with the performance appraisal system to have an uninterrupted and sustainable R&R practice.
(3) Flawless integration with the HR system of the organization to keep track of the regular employee's growth, with quick access to a real-time dashboard.
(4) Regular uniform monitoring and measurement of employee behaviour, ideas, innovations and performance.
(5) Gamification of R&Rs where employees can earn, receive and send points that can be effortlessly redeemed for a wide range of rewards.
(6) Analyse and supervise rewards to understand employee effectiveness and their role in the organization.
(7) An integrated portal that mutually connects employees from varied regions and diverse cultures into one single platform.
(8) Regular newsfeeds, customary Leader boards, usual notifications, etc., to make it furthermore socially engaging.
(9) Global catalogue list of rewards, gifts, vouchers, etc.
Looking at the current scenario in the global R&R space, undoubtedly the world of recognition is changing like never before. Now technology is at the helm of things, navigating this transformation.
While the new technologies are creating fresh hints in how effectively R&R program can run, they are also opening the gates to create newer relationships in a digital world – they are helping companies create valuable R&R programs for digitally-inhabitant native employees.
Recognition and Perks
A survey of more than 2,800 senior managers looked at how employers show recognition during Administrative Week. It was found that companies most often:
• 40 % Offer a gift or present, such as flowers or a gift card
• 35% Praise workers during a staff meeting or at any other public forum.
• 27 % present a handwritten thank-you note
If you're looking for ways to honour your support staff, going the traditional way—then an employer- employee's lunch or even flowers can be a solid choice.
A firm advised that a simple thank-you note is a good start for those searching for a unique way of showing employee appreciation,—but please don't stop there: Let the Admins know how their work contribution has helped the department.
One can also share praises received from happy clients, celebrate their achievements, awards and recognize the staff on public platforms, in front of peers.
An even finer touch could be a verbal commendation followed by a sweet handwritten note.
Other rewards that employers can confer are:
(1) Extra cash
On the spot bonus as a monetary reward is always a win-win.
(2) Rest and relaxation
If short vacation time isn't practicable, then a gift card to a local spa, gym membership or a favourite restaurant, or tickets to a cultural event can be considered.
(3) New opportunities
If any administrative professional is interested, you can ask them to supervise a project, or encourage and promote them to join a mentorship program. A gesture as good as this will show that you value employees work and his contributions and you have confidence in his skills and abilities.
(4) Rewards
As employees gain more experience and are given superior responsibilities to assist in making workplaces run smoothly and effortlessly, they can be rewarded accordingly.