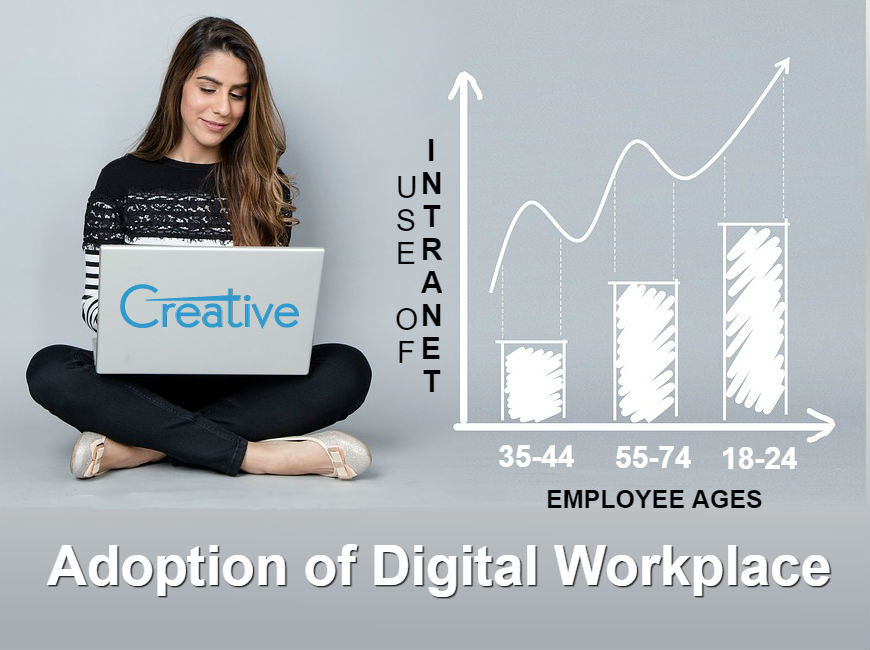 Why are many organizations still hesitating to adopt digital workplace?
Is your business ready for this technical advancement?
As per a new survey by research firm Gartner, today not more than 20 per cent of employers in all of the highly-skilled economies are prepared to accept digital workplace technologies like the virtual collaboration or mobile tools.
Strange but true…..
The survey, carried out among more than 3000 respondents in advanced countries like Australia, France, Germany, Japan, Singapore, the U.K. and the U.S., found that a very small proportion of organizations (between 7% and 18 %) possess the "digital agility" to influence and control media, information and technology in exclusively, unique and highly innovative ways.
The objective of digital dexterity is to put up a flexible, responsive workplace by executing tools such as content management systems (CMS), cloud, employee portals, social networks and multiple mobile apps.
Today's consumers are digital that means customers and employees think alike.
Digitization has turned out to be crucial for innovation and for keeping employees engaged in their organizational goals and personal careers too.
a) As per Gartner statistics, workers between the ages of 18-24 are by majority the most approachable of all other age groups to adapt to digital workplace products and services.
b) To our surprise, the oldest legion of workers analysed, that's between the ages of 55-74, are the second most likely adopters of digital workplace tools and services.
c) Workers ageing between 35-44 expressed the highest lack of interest towards the adaption of new technology and ways of working. They take their jobs as routine, have the weakest view of how technology can help their work and growth and also are the least interested people in mobile usage.
HR's responsibility and role in Digital workplace
Some researches indicate that around 56 % of Human Resource leaders are being hard-pressed to take on a very important role in driving their organizations to digital transformation.
This bestows a distinctive opportunity for HR to escort the charge of turning their organization into a digital organization of the future to improve engagement and productivity, while still getting a stronghold at the leadership table.
1) Impact of the digital revolution
Obviously, there is a strong impact of the digital revolution on the way people work.
Employees have got to be able to work anywhere, even in a 'non-office' environment, act as team players, have consumer-like software skills for using a mobile phone, cloud, social media, apps, and other tools and lastly be on toes to say OK to non-routine ways of working.
2) Hiring the right candidate
As responsible HR professionals, you must be equipped to hire candidates who can survive and bloom in the digital environment or else train the existing employees to become digital workers.
3) Improve engagement
Digital technology can improvise engagement and also job satisfaction by reflecting employees home-life handiness. It can improve productivity and efficiency too by offering flexibility, mobility and other options for administrative and HR-related duties.
4) Value-additive work and personal development
When employees can modernize their advantages easily, whenever and wherever they want, they have more time to spotlight on value-additive work and personal development.
A digital workplace allows things like remote work, easy onboarding, connecting people even when they may not be physically present in the office and allowing them to perform tasks and activities as per their own agendas.
HR can play an advocate for the value of people as a priority in technology functioning.
This means the user experience is required by the new system to improve the skills of the workforce, and how will this impact your employee satisfaction and engagement.
HR may not have to lead transformation on its own. It can assemble inter penalizing teams that include HR, sales, finance, customer service, IT and others that are capable of influencing the expertise to redefine the overall employee experience.
Overcoming the resistance to revolution
The success and victory of digital transformation usually depend more on the right change management rather than on the technology itself. This makes it crucial to involve management holders from across the organizations that are willing to handle the transformation initiatives. Any alterations in an organization have a direct impact on the people within that organization, and thus HR leaders should work to ensure that employees are comfortable, well informed, properly trained and accept the change wholeheartedly. To overcome this resistance, the best tactic is first to sculpt the behaviour required by the new digitally dexterous organization.
This means accepting the digital workplace, innovatively using technology, thinking strategically, representing team spirit, and including both; the stakeholders and innovative thinkers together in the process.
Other important steps can be:
• Growing with feedback from digital workers through proper mentoring, frequent surveys and perfect observation.
• Arranging centre groups for older executives to train them about upcoming technology challenges.
• Modelling workers needs on how to use technology inside and even outside the office.
• Highlighting eccentrics to expose insights of productivity and unshared technology.