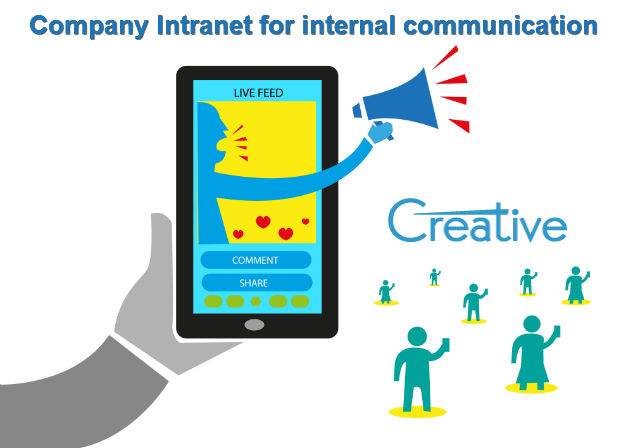 Year 2020 is all about more employee engagement, boosted internal communication, better workflows and improved productivity.
So what is your company 2020 goal?
Creative has a goal to provide an interactive and intuitive company intranet which is more useful for employees and improve the company process than just being a blip to employees daily work radar.
Four tips which we will boosting internal communication and productivity.
1: The most viewed content: We are often mistaken with the fact that company news attarcts employees. However fact is that it is rarely seen. There are certain list of information that employees look into almost daily.
For eg:
The cafeteria menu

Company Gym slots

Holiday Calendar

Offsite locations

Company news

Upcoming events
Make this content easy to find on intranet dashboard and employees will regularly return to the company intranet, where they'll see company news by default. Thus employees will be pushed toward important informations automatically.
2: Mobile use is growing. Well nothing new, it was same in 2019 too. But companies yet have not shifted towards mobile intranet. The percentage of employees visiting the intranet from a mobile device in 2020 is on the rise. Work from home or from remote locations will be in the preferred list for 50% of the employees. The mobile-first mentality of millennials needs a mobile responsive intranet app with notification alerts. If your intranet isn't optimized for mobile, start engaging with it to find out what's needed to make your site mobile-friendly.
3: Local content gets more views than global content.
In this context local content and global content means, employees prefer knowing more about information related to their department / group or location in which they reside. This content is more relevant to employees so, not surprisingly, it gets more clicks.
Company intranet that gives departmental and site communicators an easy way to post content on the intranet is what will grow in 2020. The groups having an internal chat feature like group chat, options to subscribe only to group related news informations and giving them a channel for sharing content may contribute to a decrease in email.
4: Outdated content continues to plague most intranets.
Company intranets should allow publishers to set an expiration date for content. This will help employees to search data from current dates. Thus avoiding the risk of reading outdated information which may mislead to company activities. Make expiration date a required setting. This will prompt content owners to review and update/republish or archive content on a regular basis.
Creative Intranet Applications are designed and developed for boosting internal communication and collaboration upto 80% in 2020.