A complete guide to career in Digital marketing
Digital marketing is one of the fastest growing fields in all of business, and for good reason. The digital world continues to expand at a rapid rate, with more and more people using smartphones as their primary source of information and entertainment.
According to the Google Trends report from May 2018, the search term "digital marketing" has grown more than 12 times in popularity in the past decade.
In fact, the Bureau of Labor Statistics reported that employment of social media marketers alone is expected to grow by an astounding 75 percent by 2026.
According to Linkedin, the industry is growing every year, paying a living wage, and has the greatest number of job openings.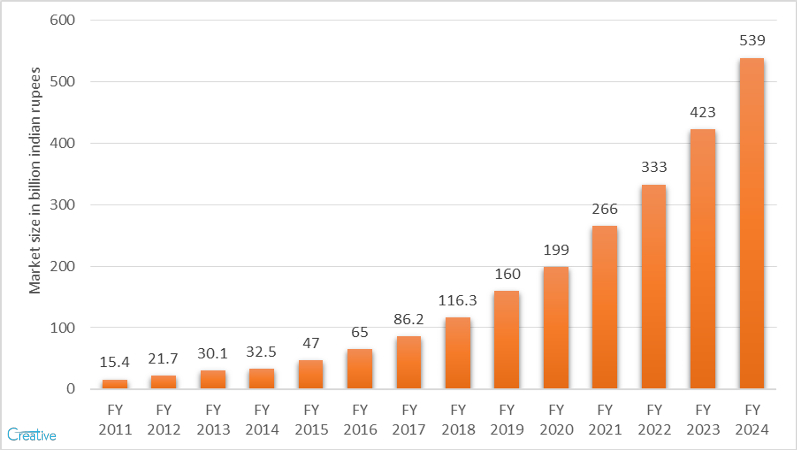 This increased demand for digital marketing services means there are plenty of opportunities for those who want to work in this field. Digital marketing in India has a bright future. After the US and UK, India comes in the third position in digital marketing.
There are more than 600 companies in the digital marketing field.
High demand: Every business needs digital marketers to attract and retain customers. Do you know what that means? Digital marketing is the most in-demand career in 2022
If you're interested in pursuing a career as a digital marketer, here are few things you should know before getting started:
1. Knowing your interest and skills
Before beginning a digital marketing career, you must know exactly what you want from it by asking yourself a series of questions.
What do I like doing?
Are you better working with others or on your own?
What skills and strengths do I already have?
What do I like doing?
What is my greatest talent?
You must ask yourself these questions in order to know what career path is right for you. There are various digital marketing courses, each with its own distinct career path. It is best to choose a digital marketing discipline that matches your current interests and skills when applying for your first job. It will be the most rewarding.
Below I've listed some of the most in-demand digital marketing skills and the associated tools you should learn to master them.
Web Analyst: Google Analytics, Adobe SiteCatalyst, Clicky, Optimizely, Crazy Egg, Moz, etc.
Content Marketing – WordPress, Yoast SEO plug-in,Grammarly, ClearVoice, BuzzSumo, HubSpot, Copyscape, etc.
Digital Analytics – Google Analytics, Adobe Analytics, Optimizely
Search Engine Optimization (SEO) – Moz, Ahrefs, SEM Rush, Google Search Console
Search Engine Marketing (SEM) – Google AdWords, Bing Ads, Google Webmaster Tools, SEMrush, HubSpot's Website Grader, Google Keyword Planner, Google Trends, Google AdWords, etc.
Social Media Marketer: Hootsuite, Sprout Social, Buffer, Twitter, Facebook, etc.
Conversion Rate Optimization (CRO) – Optimizely, Google Tag Manager, Craft
Social Media Marketing – Facebook Ads, Twitter Ads, LinkedIn Ads, Hootsuite
Affiliate Marketing – CJ by Conversant, Impact Radius
Marketing Automation – Marketo, Pardot, Bronto
Email Marketing – Mailchimp, Constant Contact, AWeber
Web Development – WordPress, Magento, Joomla, Drupal
Project Management – JIRA, Basecamp, Timeforce, Trello
3. Certifications
There are so many free digital marketing certification courses available that would look great on your résumé. In addition to all of the free certification courses, there are over 55,000 marketing courses on Udemy, 2,000 on Coursera, and 6,200 on LinkedIn Learning, for example.
4. Jobs and Salaries in Digital Marketing
New digital marketing roles are emerging in response to the increasing importance of online channels and social media in business. There are several job titles that may be new to you, such as video producer, content strategist, search engine specialist and social media analyst. You might think of digital marketing as a single role but there are many sub-specialties.
Every company has its own needs, audience and budget but the principles remain the same:
Know your customer so you can create content they want;
Make that content accessible to them;
Find more people like them;
And measure everything so you can improve it next time.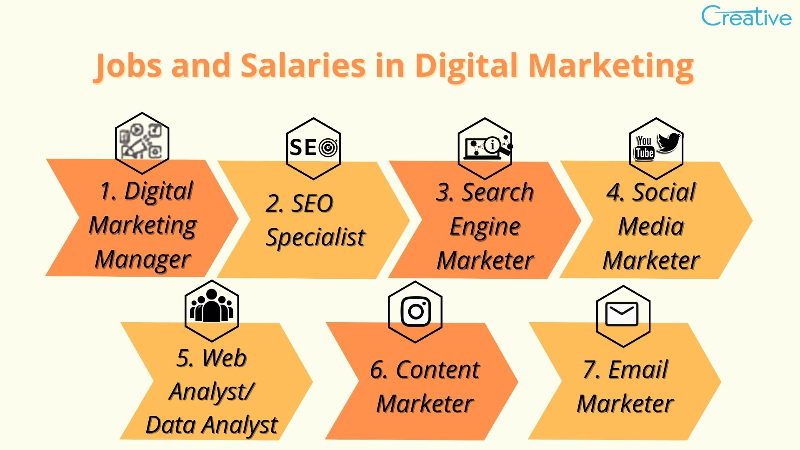 Read on for a closer look at five jobs we think you'll love with a career in digital marketing:

5. Which city is best for digital marketing in India?
New York, London, Bangalore or Chennai? When it comes to digital marketing in India, the answer isn't as straightforward as you might think. Each city has its own pros and cons when it comes to marketing a business effectively online.
Tier I cities including Delhi, Bengaluru and Mumbai (in that order) are the most preferred job locations for digital marketing students and professionals in India, revealed a survey conducted by Pixel Track.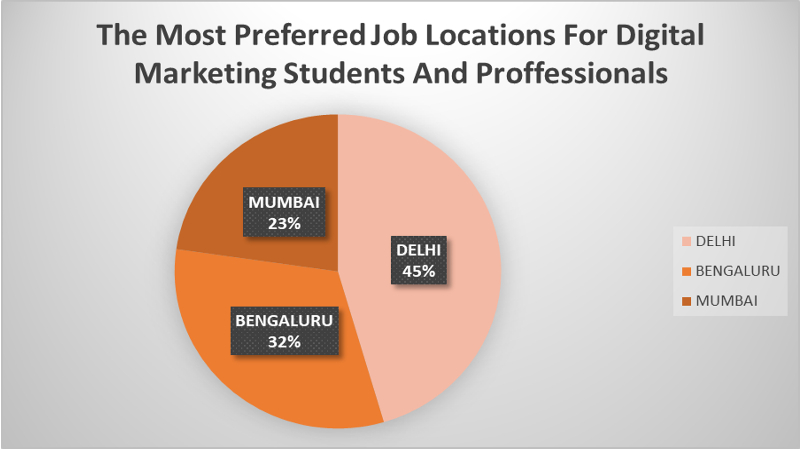 6. Preparing for your first Digital Marketing interview
A digital marketing interview can be nerve-wracking for any job applicant. After all, the stakes are high: a single interview could lead to a new job offer, or no job at all.
Fortunately, with preparation and practice, you can increase your chances of success during an interview. Knowing what to expect from your interviewers and how to answer their questions will put you in a much stronger position when it comes time for that inevitable interview.
Whether you are preparing for your first interview or perhaps a subsequent one after being declined the first time around, adopting some standard interview techniques will help you shine in any future interviews.
Take a deep dive into the company.
Match your résumé to the role.
Prepare yourself with situational questions.
Be prepared for a digital marketing assessment.
Offer to accept – Select Learning before Money.
Practice and Practice ( because Practice makes perfect)
7. Freelance jobs in Digital marketing
Digital marketing is an essential part of a company's marketing plan. It helps businesses connect with their target audience and drive measurable results through search engine optimization, social media marketing, website development, and other digital strategies. As a freelancer in the digital marketing industry, you can help small businesses expand their reach through various online platforms. Resources looking for job opportunities and preferring to work from home like housewives, physically disabled can break into this growing field as an independent worker. Infact Creative is already having a team of skilled resources that work remotely with Creative despite their physical inabilities or limitations.
8. Future of Digital marketing
Digital marketing has evolved from being a channel to marketing being the center of the customer experience. The digital landscape is ever-changing and new channels, tools, and technologies emerge frequently. Keeping tabs on all these changes can be overwhelming for marketers.
Whether you're new to digital marketing or looking to refresh your knowledge, this guide will help you understand the future of digital marketing and how you can adapt your strategy to meet those challenges head-on.
The future of digital marketing will be completely automated. Currently a wide range of companies introduced Sales automation, marketing automation tools to make things easy for the marketers. These software are replacing the human brain. These software are self-driven.
In my next article, We will share a list of few AI driven softwares which will replace humans in digital marketing.
9. About
The study, survey and thoughts of this article are curated by our CEO Mr. Sony Surana, Managing Director of the company Creative Web Mall (India) Pvt. Ltd. A turnkey enterprise, web, mobile app development and digital marketing company in Mumbai, India. He shared his thoughts in a MITSDE Live Webinar with young students looking for Career guidance in the field of Digital marketing and information technology (IT).
Looking for professional intranet application development?