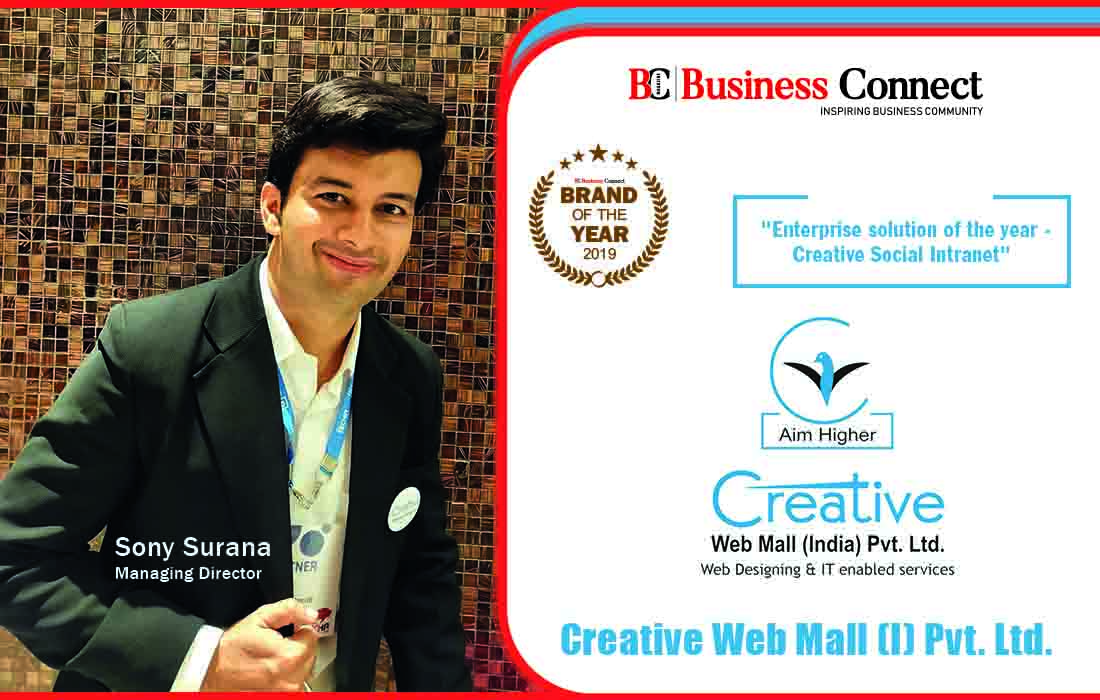 Business Connect recognizes Creative as Brand of the year 2019 and Creative Social Intranet as Enterprise Solution of the year 2019
Creative Social Intranet an innovative enterprise communication software by Creative has been recognized as "BRAND OF THE YEAR 2019" Carving a niche in the Enterprise Software Solutions domain, by Business Connect, One of the best business magazines in India. Business Connect is a platform that brings together entrepreneurs, executive officers and Venture capitalists from a variety of sectors focussing on publishing inspirational success stories of business houses and innovations spread across the globe in the entrepreneurship world.
Some of the Interview Highlights
1. Please walk us through your company profile and your services
Creative Web Mall (India) Pvt. Ltd. was incorporated in 2007, An established company located in Mumbai, India that delivers on promises made. Creative provides a range of Web, Mobile and Enterprise Solutions and IT Outsourcing Services that streamline business processes and results in business growth.
2. How do you feel you are different from your competitors?
What makes Creative different from competitors is the services that help companies achieve operational efficiencies and expansions, While being innovative and reliable. Creative has served varied clientele from 16 countries around the globe. Creative's experience in the IT industry has lent them the perspective to fully interpret problems, design solutions, and deploy them efficiently, economically, and effectively. Creative helps add value to businesses and reduce costs.
3. Did you see any transformation happening for startups, over the years in your field?
Creative has set turnkey online business solutions for many companies looking to set up a brand online. Right from online business strategy, domain, branding, design, portal, mobile app development to online promotion, Creative did not just stop by playing an advisory role. Creative walked along with them while executing these strategies, to ensure business success. Earlier startups were looking for IT developers, But now they are looking for IT partners.
4. Did everything come easy, or you have your story of struggle?
As said, "Nothing worth having, Comes easy". Creative too had to undergo the complexity of things to sustain in the IT industry where everyday, a new competitor emerges, the brawl to growth just seemed endless. Creative team has been continuously sponging and learning new technologies. Good experience nurtures from bad decisions. It's all part of the journey called 'Excellence'. Creative internal HR had been using some popular ERM software for its internal communication and resource management. We tried using a few software solutions, But none could fulfil the complete need of the hour. This is when, Creative saw the vacuum and introduced "Creative Social Intranet" – a next generation employee engagement portal and content management system for the enterprises to enable smooth flow of process and communication.
5. What kind of clients do you serve any special mentions?
Creative has been providing web, mobile, intranet and enterprise custom solutions to all medium and large scale companies from India and worldwide. Creative have served intranet applications to large companies in the Health industry, Pharmaceuticals, Aviations, Real Estate and construction industry, Leading banks, and Finance industries. to mention a few: Trent Ltd, HCC Ltd, Cadila Healthcare Ltd, BCCB Bank, HDFC securities Ltd and many more..
6. How do you ensure unbreakable faith of clients in your company?
Creative has been serving IT services to leading conglomerates in India. The positive feedback from our clients on leading software rating website Capterra, powered by Gartner says it all. Everything thing wrt to service or software features is clearly mentioned in black and white for each of our clients. We study client's company culture, systems, requirements, hurdles and problems with existing legacy applications and then suggest bespoke customized solutions backed by an unmatch pace of deployment. So there is no opportunity to breach the faith.
7. How do you keep pace with the changing market trends?
Creative is continuously upgrading its knowledge wrt to latest technologies and it's software features. Creative regularly participates in leading HR summits and conferences to improve the knowhow and changing market trends. The software solutions provided to Creative clients are designed to be functional in a given business environment suiting every client's custom needs.
8. Do you believe R&D is essential for the growth of the company?
R&D activities is a key factor in the IT industry for achieving future growth, as they eventually lead towards an increase of the company's knowledge, a better technology and innovation.
9. Do you still come back to work with the same zeal, like you did when you started?
As the age grows the thrive to deal with varied clientele has not depleted but has only developed better with the interest towards building more and more long term relation with employees and clients. Infact an exciting solution like "Creative Social Intranet" has doubled our enthusiasm to face the clients with more commitment and confidence on our solutions and services like never before.
10. In terms of your market, what do you feel the future holds for entrepreneurs?
There's been a lot of innovation already happening in a lot of different sectors. Entrepreneurs need to select a particular niche and identify the big problem that needs to be solved or an opportunity that needs to be seized–and go for it. Future holds to those who constantly reinvent your their learning process and are always looking for the next mountain to climb.
11. How necessary do you feel is it to keep your employees content, how do you ensure it?
Engaged employees focus on purpose and values. It's no longer just what you do , it's about how you do it. Creative Social Intranet is all about improving employee engagement and improving internal communication and collaboration. There has been 55% increased efficiency and productivity and 90% increase in employee satisfaction with enterprises using Creative Social Intranet for their internal communication.
12. Who is your role model in business/entrepreneurial world and what have you learnt from the person?
Mr. Narayan Murthy, Infosys – My learning from him: "Be open to ideas and always be willing to learn".
13. How are you giving back to society (CSR, if any)?
Creative has been donating every year for the development of orphan kids, feeding of birds and growing trees. Infact Creative has its own green space in office to motivate Go green culture. It is very relaxing and stress relieving to work in a surrounding close to nature. Creative have served with low or almost zero cost web development services to few leading NGOs in Mumbai.
14. Apart from work, what else does you like to spend your time doing?
All the money in the world can't buy you back good health. So spending time with family, friends and maintaining good fitness through sports and exercise is the most important aspect to further shoulder Creative's growing responsibilities.
15. How do you see the initiatives of the present government with respect to your industry? Have they helped you in any sense?
Digital India has made few tasks of life simpler. But still needs to go a long way.
16. What are the achievements and milestones of the company?
1. Capterra – Powered by Gartner, most popular Intranet software review website, recognizes Creative Social intranet as one of the top promising Intranet Solution providers in India.
2. CIO Review Magazine – India's most popular ECM software review magazine, recognizes Creative Social intranet as one of the top 10 promising ECM Solution providers in 2018.
3. Creative Social Intranet is one of the top 100 Communications and Collaboration Software products reviewed by Review Finance Online 2017 Awards.
4. Served Creative Social Intranet Software in 2018 to leading companies having employees more than 20000.
5. Introduced Meeting Room booking system, Helpdesk trouble ticketing, Employee on-boarding, Enterprise chat software, Visitor Management system, Document management system, LMS, Micro learning software, Enterprise recruitment portal in 2019. Lot many more features are coming soon.
17. What does the future hold for the company?
India alone is home to more than 5,000 start-ups, and this number is slated to more than double by 2020. There is no doubt the tech love affair will continue to heat up as new innovations continue to spring up with new technology and advancements. Creative definitely aims at building trust and collaboration into relationships with companies worldwide.
18. Lastly, what message would you like to give to the readers of the Business Connect magazine?
Businesses today not only require enterprise content management (ECM), but a strategic
ECM solution that not just stores important information, but also saves unstructured information
in an accurate manner which could be accessed and processed easily in future. Give your employees the knowledge and brace to effectively do their jobs with efficient internal communications. At Creative
Web Mall (India) Pvt. Ltd, we believe in providing a platform to our customers that they can use to handle documents and information in chronological order and with advanced search options to
maintain a record of all the information with various modules and categories. Combined with
document management, We believe in increasing workplace productivity through ECM.