Organizations are changing its culture From "For whom do you work" to "With whom you work". Companies are now putting efforts to give workforce an environment that make them feel more associated with the organization.
One of the effective measure is to impart Modern Social Intranet. Digital Workplace or Modern Intranet has completely changed the way communication use to take in the organization. Organizations are now understanding the importance of social Intranet. They believe that the tool can help them to rebuild their image among their employees. However many organizations fail to keep their employees engage with this new tool.
We have list down some of the steps organizations can adopt in order to keep their employees interested in social intranet.
Neat Simple Design 
 The home page of your portal is the first thing employees see every day. A cluttered homepage of social intranet forces employee to move from the portal as fast as they can. Keep your home page simple yet attractive.
 Lively theme
The golden rule of keeping people engage is to keep it interesting. Decide on a interesting theme that matches with soul of the workplace. Make your layout easy to navigate from work related doc to the page which is designed for fun.
A regular corner to look forward
Social Intranet should have one corner that have a regular new post. Something which can keep an employee interest alive. It can be in the form of "Thought of The Day" or "Fact Files" or "Laughter corner". This small section keeps the intranet portal live and dynamic.


Keep your employees updated
Make your intranet first source of announcements & events. Share your company news and important announcement on top of the intranet. It keeps employees updated and interested in this new portal. Remember a mail intimation is good but a easy to navigate portal to get the latest information is Great!

Employee profile
Encourage your employees to fill their profile completely. Option to change the profile photo or cover photo give employees a feel of using their personal Social network. It also helps them to know their colleagues better and improves collaboration.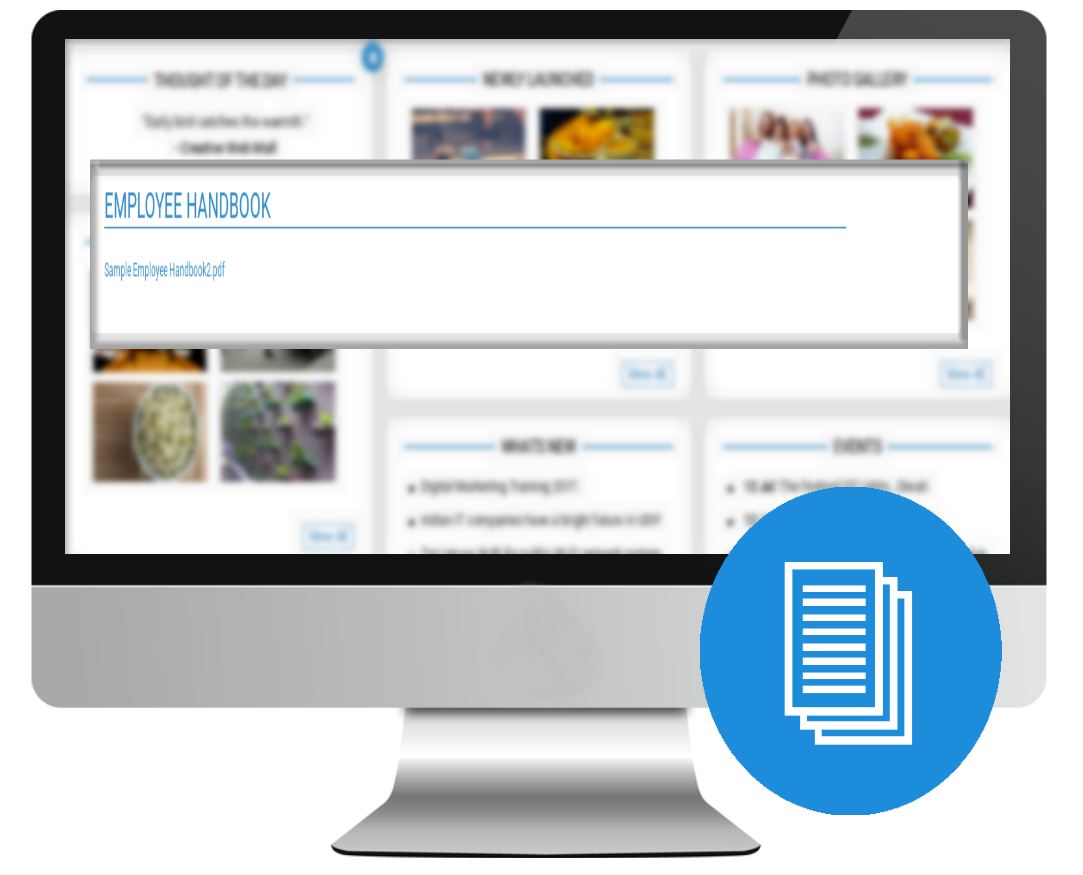 Upload Documentation and Handbooks
It is a must feature of intranet. A place where all important doc related to company policies can easily be found. It gives the ultimate meaning to intranet. Give a user friendly portal where any employee can read all important documents as per his ease of time.

Add Videos and Photos
People love what their eyes and heart love. You should have a photo gallery filled with various events organized by your company. Employee loves to see themselves enjoying. You can have tutorials and skill development videos in your gallery. Uploading funny videos as stress buster is also a very effective idea.

Groups and Forums
Every one is not interested in every information shared. Hence a separate space related to department or activity helps employees to escape from the unwanted informations. Also it helps to make the effective communication within the group.

Create Polls
Another simple yet smart feature is Poll. It is easy way to keep your portal interesting and help employees to initiate conversations. Poll is good for organizations too as it helps you to improve. Also when utilize properly it increases the employee stickiness.
Your office is full of buyers and seller.
A good market platform provides a great ease to employees. It solves their personal purpose without taking out time from office. By adapting this feature organizations are building employee centric image and trust among their employees. This feature is getting popular as it is a win-win situation for all.


Post your Requirements
Internal Job posting is the best way to fill your vacancy. It is cheaper and way more effective form of filling the requirement from a organization point of view. But, posting the latest requirements in social intranet help employees too. It is helpful for those employees who are looking for department change or are ready to enhance their skills. Also many employees love to refer their contacts for suitable profiles. Therefor posting a current vacancy can benefit organization in enhancing the social intranet usage in much effective way.

Social Intranet can prove one of most power tool to increase employee stickiness if used properly. Organizations can see great results just by adopting above easy steps...