The argument between native and cross-platform development has waged on for years, splitting the IT world. A few experts believe that native apps are superior to cross-platform apps. Companies like Uber, on the other hand, are rewriting their driver app using Ribs, a cross-platform app framework. By addressing a wide range of end devices during the development and production process, cross-platform frameworks aim to create an app that reaches out to as many brand fans as possible.
Cross-platform development is the way to go for the company, given the exponential growth in the cost of per platform development and the necessity for speedy time to market.
There are a number of cross-platform app development frameworks available, each with its own set of advantages and disadvantages. The following are the most competitive and high-performing frameworks available today:
1. Xamarin
Loved by Developers, Trusted by Enterprise
Xamarin began as an independent cross-app development platform in 2011 but was subsequently purchased by Microsoft in 2016, giving it greater legitimacy.
It's an open-source framework that was created to address the issue of disconnected native technology stacks, which made developing mobile apps difficult and costly.
2. Native React
Learn Once, Write Anywhere
Facebook's React Native project was introduced in 2015, and it sparked a wave of interest in hybrid frameworks. React is now one of the most popular cross-platform app frameworks just a few years after its first release (and the most trending framework amongst the 5 cross-platform app frameworks discussed in the blog).
3. Flutter
Beautiful Native Apps in No-Time
Flutter is a free and open-source cross-platform framework for designing native Android and iOS interfaces.
Flutter is not a new concept at all although it was announced in 2018.
Keep in mind that Flutter is a cross-platform app framework developed by Google, the same company that creates the Android Native Framework. Other reasons for flutter's inclusion on this list are detailed in a survey conducted by Stack Overflow.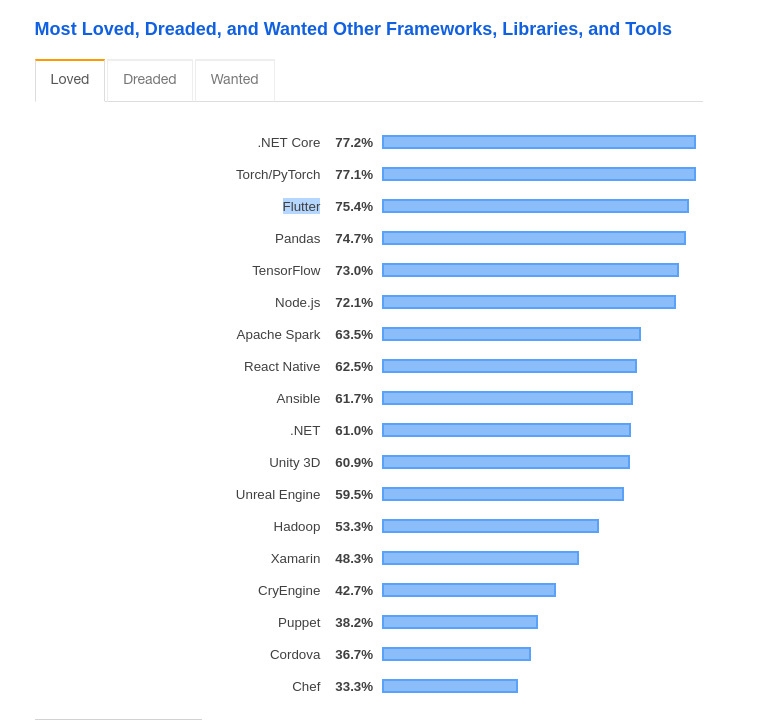 Flutter was ranked among the top three most popular frameworks in the Developer Survey. It also adds further competition to the React Native framework's already dwindling popularity.
Conclusion
Cross-platform applications are popular because they reduce the need to create separate programs for several platforms. Cross-platform software may operate on a variety of devices and systems. A cross-platform framework is required to create this globally compatible software.
Which of the aforementioned cross-platform mobile app development frameworks is the best fit for you? The simple answer is that it depends on the functional requirements of the company and the app. Consulting a qualified and experienced cross-platform mobile app development business, on the other hand, may assist in making an educated selection.
About Creative Web Mall
Creative Web Mall has a lot of experience with Cross-platform app design. Our mobile solutions provide cross-platform compatibility as well as platform-specific functionality and appearance.
Our team assists firms in engaging their potential consumers across numerous platforms and devices by providing effective hybrid mobile applications. We focus on planning, organized execution, and quality checks as a trusted service provider to ensure the end product meets your company goals, timetable, and budget.